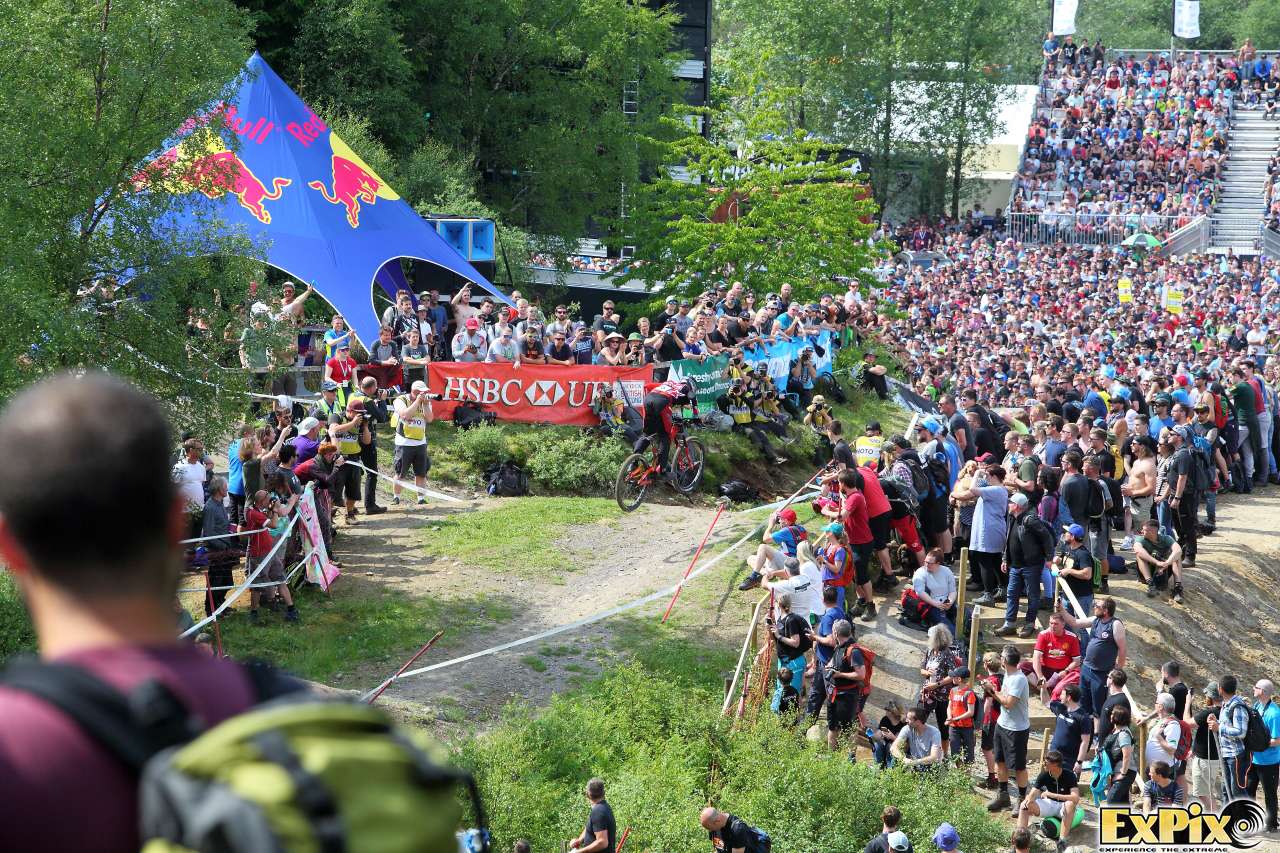 The sun was belting down on the Nevis Range and temperatures and humidity were high for the practise sessions on Friday at the UCI Mountain Bike World Cup.
With 3 weeks of really good weather in Fort William, riders were up against a dry, fast track. And with a faster section connecting the rock gardens with the woods, there were a fair few crashes, with some riders having to be lifted off the course by gondola.
Saturday saw favourite Danny Hart finish in 2nd place behind Luca Shaw in the Downhill Qualifiers, with Rachel Atherton taking first for the women. Elliot Heap blasted his way through to the semi's in the 4X Pro Tour (4 Cross), a double for Heap who also qualified in the Downhill earlier that day.
And as the 4X Pro Tour Finals kicked in later that evening, so too did the rain. The storms that had been hitting the UK had certainly arrived in Scotland, turning the arid tracks into mud slides.
Sunday and the sun was back as huge crowds gathered for the main race day. Racing times were fast and there were plenty of 'upsets' as 'favourites' didn't perform or crashed.
Probably the best run of all time came from Rachel Atherton, who with just two pedals out of the blocks suffered a snapped chain. Showing grit, determination and heart after not competing last year due to injury; Atherton with no power and a big fall OTB (over the bars) in the woods, still managed to podium in 3rd only 9 seconds behind first place Tahnee Seagrave.
Images from the event below
Women Elite Downhill
| | | | | | | | | |
| --- | --- | --- | --- | --- | --- | --- | --- | --- |
| 1 | 3 | SEAGRAVE Tahnee | GBR | TRANSITION BIKES / MUC-OFF FACTORY RACING | 23 | 00:05:10.960 | | 200 |
| 2 | 1 | NICOLE Myriam | FRA | COMMENCAL / VALLNORD | 28 | 00:05:19.211 | | 160 |
| 3 | 2 | ATHERTON Rachel | GBR | TREK FACTORY RACING DH | 31 | 00:05:20.016 | | 140 |
| 4 | 4 | CABIROU Marine | FRA | VOULVOUL RACING | 21 | 00:05:21.782 | | 125 |
| 5 | 7 | HANNAH Tracey | AUS | POLYGON UR | 30 | 00:05:22.744 | | 110 |
| 6 | 5 | RAVANEL Cécile | FRA | | 37 | 00:05:24.368 | | 95 |
Men Elite Downhill
16

PIERRON Amaury

Fra

COMMENCAL/VALLNORD

22
00:04:34.452

200

2

10

VERGIER Loris

FRA

SANTA CRUZ SYNDICATE

22

00:04:34.722

160

3

8

BROSNAN Troy

AUS

CANYON FACTORY DOWNHILL TEAM

25

00:04:34.763

140

4

81

WILSON Reece

GBR

22

00:04:35.775

125

5

61

BRUNI Loic

FRA

SPECIALIZED GRAVITY

24

00:04:37.039

110

6

9

HART Danny

GBR

MADISON SARACEN FACTORY TEAM

27

00:04:37.209

95
Women Junior
| | | | | | | | | |
| --- | --- | --- | --- | --- | --- | --- | --- | --- |
| 1 | 1 | HÖLL Valentina | AUT | | 17 | 00:05:21.694 | | 60 |
| 2 | 4 | ZIBASA Paula | LAT | SRAM YOUNG GUNS RACING | 18 | 00:05:50.896 | | 40 |
| 3 | 7 | NEWKIRK Anna | USA | | 17 | 00:05:50.923 | | 20 |
| 4 | 5 | MELVIN Kaytlin | USA | | 18 | 00:06:41.041 | | 10 |
| 5 | 3 | JOHNSET Mille | NOR | | 17 | 00:07:02.893 | | 5 |
Men Junior
| | | | | | | | | |
| --- | --- | --- | --- | --- | --- | --- | --- | --- |
| 1 | 3 | A'HERN Kye | AUS | CANYON FACTORY DOWNHILL TEAM | 17 | 00:04:42.414 | | 60 |
| 2 | 1 | DAPRELA Thibaut | FRA | COMMENCAL / VALLNORD | 17 | 00:04:43.179 | | 40 |
| 3 | 2 | EDWARDS Kade | GBR | TREK FACTORY RACING DH | 18 | 00:04:45.073 | | 30 |
| 4 | 37 | EDMONDSON Jamie | GBR | TRANSITION BIKES / MUC-OFF FACTORY RACING | 17 | 00:04:48.037 | | 25 |
| 5 | 16 | MASIERO Giacomo | ITA | | 18 | 00:04:54.396 | | 20 |
| 6 | 4 | CRUZ Lucas | CAN | | 17 | 00:04:54.585 | | 18 |