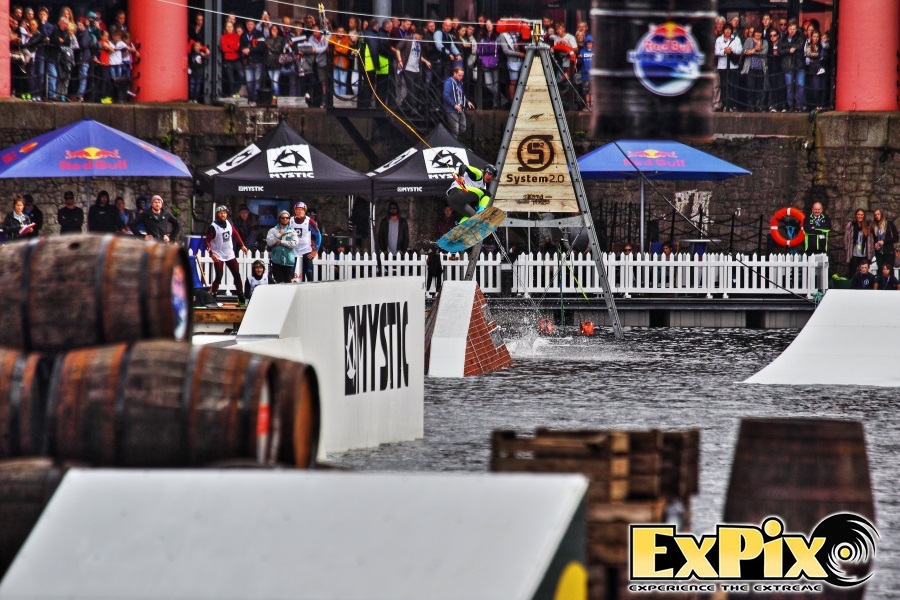 Red Bull Harbour Reach Albert Docks 2014
20 of the world's best wakeboarders hit Liverpool's Albert Dock on Saturday 30th August as Red Bull Harbour Reach took over Liverpool's waterfront for a second year.
2014 has been a fantastic year for UK wakeboarding fans. With two new UK wakeboard events, The Harbour Project and Plastic Playground having brought the cream of international wakeboarders to the UK shores; Red Bull Harbour Reach 2014 gave fans the opportunity to see these guys and plenty more in action once more.
The day's action kicked off with the heats; 4 riders in each heat, 5 heats, 2 runs, best 2 riders of each heat go through to the semi-finals, the rest battle it out in the Last Chance Qualifiers, LCQ.
Red Bull team rider Dominik Gührs rode first in Heat 1 followed by Sam Carne, Oli Derome & James Windsor. Whilst most of the riders had good clean 1st runs, too much speed saw reigning Harbour Reach champion, James Windsor come unstuck on the Quarter Pipe, sliding arms outstretched into the dock before finishing his run with a huge 720 off the kicker. Catching his toe edge on the flat bar, Oli Derome spectacularly redeemed himself, putting down a second solid run. And whilst James Windsor fell again in his second run his technical riding saw him take the win in the 1st heat to go through to the semis along with Oli Derome.
Heat 2 saw Jeremia Hoppe, JD Webb, CK Koester & Daniel Grant going head to head. Hoppe played safe to get the points, Webb was on fire, throwing down a massive backside on the Quarter Pipe, after a restart due to the cable cutting out, CK went on to have two good runs but it was Grant who got the crowd cheering when he 'tapped' the barrel on his first run out for the day. Grant went through to the semis in 1st place with Jeremia Hoppe in 2nd
Nick Davies, Scotty Broome, Declan Clifford & Adam Errington battled it out in Heat 3. Nick Davies gave two confident runs, finishing on a huge crow mobe showing why he's one of the UK's best riders. Scotty was up next and it was good to see him back on the water. Injuring his knee at The Harbour Project, Scotty missed out on Plastic Playground but rode stylishly through his second run. Big man Declan Clifford used his strength to power his way through the course but with two falls on his second run it was game over. Adam Errington rode consistently and whilst Nick took the overall win, Adam's runs earned him a place in the semis
As the wind picked up and the weather moved in, Graeme Burress from the USA faced an 'all British' contingent in the form of Jack Battleday, Freddie Carter & Dan Nott in Heat 4. Despite the wind, Burress got in some serious airtime on the Quarter Pipe giving him the win with Jack Battleday coming in in 2nd place.
Heat 5 saw international riders Felix Georgii and Brenton Priestley take on UK riders, Matt Crowhurst & 'Solid' Jim Sedgwick. Whilst Matty C and Solid put in some great runs they were no match for the awesome riding of Brenton Priestley and Felix Georgii who gave everyone a master class in cable riding. Priestley took the win with Georgii 2nd
So with the heats over, all hopes of claiming one of the remaining 2 semi-final places were pinned on the Last Chance Qualifiers. With only one run in which to prove themselves, riders Dominik Gührs, Sam Carne, JD Webb, CK Koester, Declan Clifford, Scotty Broome, Freddie Carter, Dan Nott, Matt Crowhurst & Jim Sedgwick really had to pull out all the stops.
Dominik Gührs and JD Webb gave it everything their efforts were rewarded as they made it through to the semis.
The first of the semis got under way and Brenton Priestley, Graeme Burress and Jeremia Hoppe put in some good runs. But it was James Windsor who had everything to play for. After falling in both of his runs in the heats and with only one run for each rider in the semis, James needed to put in a solid run. And he did just that; going for technicality, big air and big spins, James dominated the course, pushing things to another level and giving him the win. Following him into the finals was Brenton Priestley
In the 2nd semi-final, Oli Derome stomped home with a massively impressive run to take the win with JD Webb sticking the last kicker to come in in second ahead of Jack Battleday and Nick Davies.
Daniel Grant was all over the 3rd semi-final. The only rider to have a clean run, Grant guaranteed himself a place in the finals. Dominik Gührs, Felix Georgii and Adam Errington fought hard but it was Georgii who took the final place.
After the points were worked out, the finals got under way with the six finalists competing in reverse qualifying order: Felix Georgii, JD Webb, Brenton Priestley, Daniel Grant, Oli Derome & James Windsor.
Felix, JD and Daniel came unstuck in their first runs whilst Brenton's 360 on the Quarter Pipe and finishing with a big tantrum to blind gave him a faultless first run. Oli also had a huge solid clean run, setting the standard for the final rider James who after slipping on the Quarter Pipe, finished his run with a 900. In the second runs, Georgii and Grant cleared theirs, Webb, Priestley and Derome came unstuck but the ride of the day had to go to the final rider James Windsor. Smashing his way through the final with a text book perfect run, James Windsor remained so cool, so calm and so very, very collected to as he rode his way through to yet another title!
And so for the results:
James Windsor
Oli Derome
Brenton Priestley
Crowd Pleaser:
Daniel Grant - For 'tapping' the barrel!