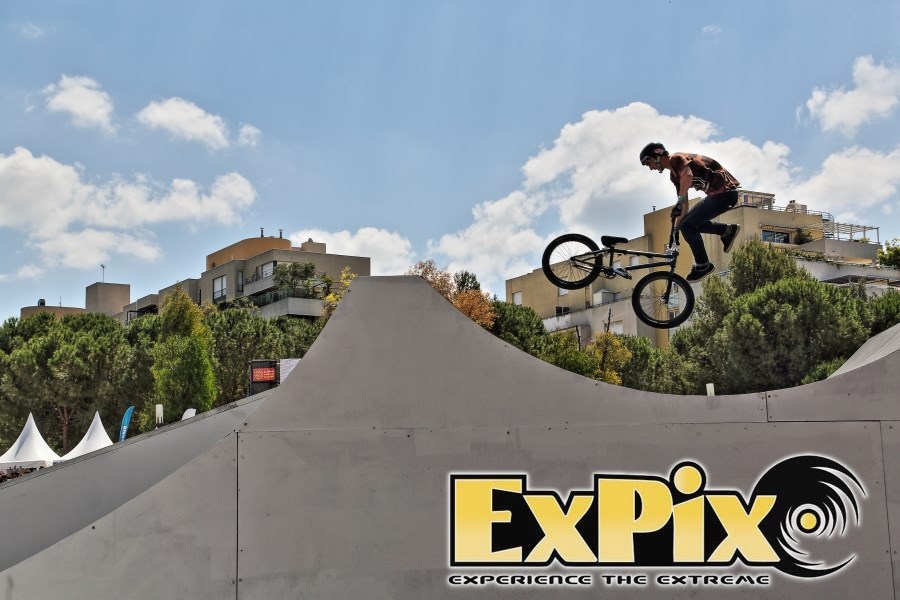 MENTAL! If you had to describe FISE World Montpellier in one word that's it right there! No amount of images or videos does this event justice. If you've never been it's impossible to comprehend the sheer size of this event, nor the amount of spectators and riders that the event engages with.
Its mind blowing; with tons of major individual events within the one FISE event it's enormous, the Glastonbury of extreme/action sports events! And it's completely overwhelming; with so much to do and see your mind goes into melt down as you try to decide where to start first.
Oh and the crowds; it's like nothing we've ever experienced at any extreme sports festival. Think of kicking out time at a top football match where you can't see the ground, stop or turn round, then times this by 4 and you'll have some idea of what it's like. It's absolutely crazy! The noise level is off the scale too as fans cheer and wave homemade banners and signs in support of their favourite riders, even in the amateur competitions.
As Seb, one of the ExPix crew described it, "FISE is easily the craziest extreme sports event I have ever seen, the crowds, atmosphere, riders and quality of every set up. Mad mad mad... It is well worth a trip out! Not to mention its dead sunny."
It's unbelievable then to think that the first ever FISE event, which was back in 1997, started out as a student project. Hervé André-Benoit, a student was passionate about kitesurfing and wanted to create and action sports event. Heading to Palavas Les Flots, the beach area of Montpellier; Hervé created the first ever FISE, an actions sports event with competitions in skateboarding INLINE, BMX and kitesurfing which attracted 5000 spectators and riders.
18 years later and FISE Montpellier has grown beyond recognition. Having moved into Montpellier town, the event now occupies the banks of the river Lez in the centre of the town. Having dropped kitesurfing during the move, FISE has increased its sports, with the event now featuring competitions in; skateboard, scooter, BMX, mountain bike, slacklining, wakeboard, roller, pogo, and S.U.P. together with a freestyle FMX show.
In addition to the numerous competition areas; 'Have a Go Sessions' and trade stalls line the various levels of the river banks as far as the eye can see. With the event site stretching over a mile in length, this is the biggest actions sports event in Europe. Now over 2000 riders compete at FISE Montpellier, and in 2013, 450,000 spectators attended the event , 600,000 watched the live streaming and the viewing figures for videos, T.V. and radio were in the millions; not bad for a student project!!!!!
So what's so special about FISE, why Montpellier and why has this event's success been so huge? Hervé André-Benoit is from Montpellier so it was natural that he would host an event is his home town. Speaking to ExPix Hervé explains "Montpellier is a very young town with a lot of students, so the town supports it. And it's important to stay in Montpellier because it started here."
But what about the event itself, what makes it so different from other action sports events? As Hervé goes on to say, "All the employees are passionate about action sports, they understand what is needed." And this is evident, for at FISE every sport set up and competition layout is top notch. Where other multi-sport events have a tendency to highlight and concentrate on just one particular sport, with the other sports coming in a poor second; at FISE, despite the enormity and the vast amount of sports featured, there is no damping down or compromise on the quality of build, prize money, riders or level of riding, right across the board. And with crowds that even the biggest football matches fail to attract it easy to see why FISE is up there with the very best action sports events in the world.
On the back of the success of FISE Montpellier, FISE World was born, with the FISE brand and event format now being rolled out in Andorra, Malaysia and China. And in addition to FISE World, the FISE event organisers launched SFR FISE Xperience, a series of events held in various locations in France.
So back to FISE World Montpellier 2014 and what can we say? Well as ever the event was amazing with the level and standard of riding being incredible in every sport. For us the highlights of the event were the Gibbon Slackline French Open; what Jaan Roose does on a slackline is insane, checkout the short video of him in the finale, the BMX Flat Pro; did Yohei Uchino really do that on a bike and not to mention Mike Varga's 1260 attempt on the spine ramp, again check out the short clips, Daniel Grant's riding in the Wakeboard Pro; enough said and one to definitely watch out for, 10 year old Aurelie Godet from France doing front rolls of the kicker!
Check out the results below and a small selection of images; a full gallery of images from FISE will be online soon.
BMX Freegun Air Spine Contest Pro
Alex Coleborn, UK
Daniel Dhers, Venezuela
Logan Martin, Australia
BMX High Air BMX Pro
Daniel Wedemeijer, Nethrelands
Maxime Charveron, France
Dean Cueson, UK
BMX Flat Pro
Yohei Uchino, Japan
Alexandre Jumelin, Paris
Viki Gomez, Spain
BMX Park Pro
Logan Martin, Australia
Daniel Dhers, Venezuela
Kevin Peraza, USA
Gibbon French Slackline Open
Jaan Roose, Estonia
Tauri Vahesaar, Estonia
Lukas Huber, Italy
Mountain Bike Vallnord Slopestyle Pro
Thomas Genon, Belgium
Martin Soderstorm, Sweden
Anton Thelander, Switzerland
Oszkar Nagy, Hungary
Roller Park Pro Invitational
Stephane Alfano, France
Cj Wellsmore, Australia
Maxime Genoud, Switzerland
Stephen Swain, UK
Roller Slopestyle Girl
Lisa-Mary Authie, France
Manon, Derrien, France
Jenciane Daris, France
Lauren Moffat, Scotland
Roller Slopestyle Pro
Romain Godenaire, France
Yuma Baudoin, France
Stephane Alfano, France
Dave Lang, USA
Skateboard Street Pro
Dannie Carlsen, Denmark
Danny Leon, Spain
Julien Bechet, France
Wakeboard Girl
Courtney Angus, Australia
Cosima Giemza, Germany
Maxine Sapulette, Enschede

Wakeboard Pro
Daniel Grant, British/Thai
Nico Von Lerchenfeld, Germany
Julian Cohen, USA
Brenton Priestley, Australia