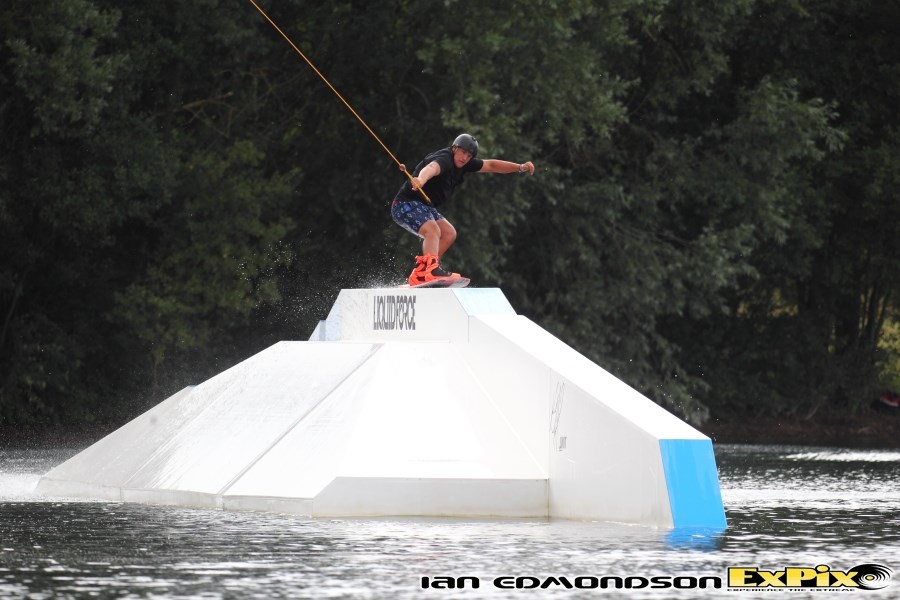 Liquid Leisure Boat & Cable Park in Datchet played host to the Cable Nationals on 27 & 28th July 2013, and with the Monster Energy crew out in force and support from the industry including; MasterCraft, Jobe, O'Brien, Liquid Force, Hyperlite, Mystic, Drift Action Cameras, Hybrid Wake and of course ExPix all setting up camp alongside the banks of the lake; we had ourselves one pretty sick event!
Saturday morning and competitors lined the dock for the riders briefing as spectators made their way through the trade village and then the action got underway. With 13 categories to get through, from Mini Boys and Girls, to Open Men and Ladies, and just about everything in between, and over 80 riders it was full on, back to back riding.
There was some spectacular riding and outstanding performances from a number of athletes and their efforts paid off as they bagged themselves a spot on the podium. But in the Open Men's a fall by favourite Nick Davis blew the category wide open leaving Freddie Carter, Declan Clifford and Lewis Cornwall to battle it out for the podium places.

So the results are as follows:

Wakeboarding:
Mini Boys
1. Kieran Owens
2. Max Stone
3. Oskar Stone
Mini Girls
1. Darci Goulty
2. Saba Yorke-Davies
Girls
1. Lottie Harbottle
2. Tabby Goulty
3. Darci Goulty
Boys
1. Joey Battleday
2. Scott Rosewell
3. Liam Peacock
Junior Ladies
1. Chloe Goudie
2. Katie Batchelor
3. Laura Christian
Junior Men
1. Jack Battleday
2. Ryan Peacock
3. Harry Eames
Masters Ladies
1. Sarah Kingdom
2. Heather McNamee
3. Sharmini Kurup
Masters Men
1. Richie Hiney
2. Richie Murie
3. Wayne Fuller
Veterans
1. Phil Lee
2. Lewis Hurst
3. Lee Mart
Open Ladies
1. Tor Young
2. Steph Caller
3. Sophie Cordery
Open Men's
1. Declan Clifford
2. Freddie Carter
3. Lewis Cornwall

Wakeskate:
Wakeskate Junior
1. Ricky Cataldo
2. Connor Floyd
3. Rory Findlay
Open Wakeskate
1. James Harrington
2. Taylor Dell
3. Freddie Carter

Huge congratulations to the 2013 Cable Wakeboard National Champions:
Dec Clifford, Tor Young, Sarah Kingdom, Richie Hiney, Phil Lee, Chloe Goudie, Jack Battleday, Lottie Harbottle, Joe Battleday, Darci Goulty, Kieran Owens, Ricky Cataldo & James Harrington.


For all the images follow the link to the UK Cable National Galleries. or check out the selection below. Please note only 100 thumbnails are showing but there is a slideshow of over 250 to click through.