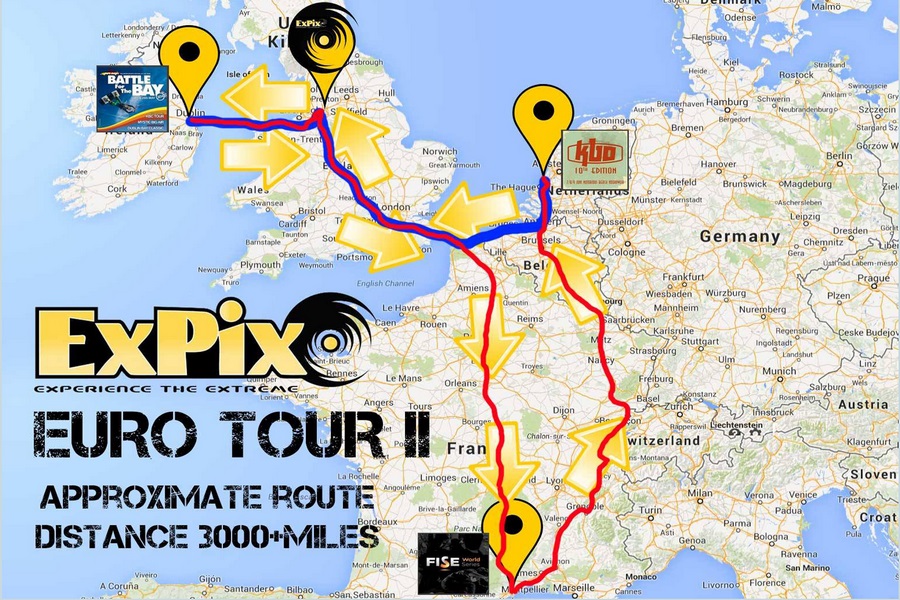 When it comes to a road trip, planning is everything, especially if you're going to be living in your vehicle. Whilst you might not know the exact details of where you're going to end up, preferring the idea of, 'let's see what we find when we get there'; get the planning right at the beginning and you could save yourself a whole heap of problems.
Firstly it's essential that you check that your van is road worthy. It may well have passed its MOT but when was the last time it was serviced? Sounds obvious but the last thing you need is to be conking out in the middle of nowhere. If your van needs to go to the garage whilst you're away, not only will you be without your transport, you'll also be without your accommodation too and unless you're insured that's going to cost and will put a whole new perspective on your trip. Whilst it's not necessarily a legal requirement, investing in European Breakdown Cover can minimise the stress and depending on which level of cover you choose, should take care of the costs too. But make sure you take your European breakdown cover documents with you, they're no good to you at home.

Ideally booking your vehicle in for a service before you set off would be the best idea but if you can't do that at the very least make sure you check that your brakes, tyres, including your spare, water pumps, windscreen wipers and lights are all in good working order.

Next make sure you're gemmed up on the motoring laws for the countries you're visiting. Find out what the rules and regulations are and make sure you familiarise yourself with the wording and terminology; pleading ignorance about the rules or not understanding the language unfortunately won't get you anywhere.

As well as your driving licence you may also need an International Driving Permit (IDP) to legally drive in some countries. As a general rule IDPs are not required when driving in Europe if you have a driving licence that was issued by an EU country. But to be on the safe side, make sure you check first as depending on which type of driving licence you have, i.e. if you have a non-photographic licence, it may be recommended or even compulsory for you to have one.

Some of the things you'll need to take with you when travelling abroad.

Also check which vehicle documents you're required to carry by law when driving. A minimum requirement in most countries is that you must have with you your original insurance certificate and vehicle registration documents. Don't forget to check which accessories you legally need too; do you need a GB sticker, warning triangle, reflective jackets, first aid kit, fire extinguisher and headlamp adjustment for instance and where do these need to be displayed or stored. And if you use a radar detector, definitely check which countries these are forbidden in, as just carrying one could cost you an on the spot fine!

And lastly if you're going into snowy mountain regions think about taking snow chains, or snow socks; in some countries you are required to carry these by law. But i it's a one off trip you're making to the mountains or you've not got the readies, hiring snow chains may work better for you;
For more information about compulsory requirements when driving, check out the AA or RAC.

So once you've got you van road worthy, have checked on the legal requirements for where you're planning to travel to, the next issue to tackle is the trip itself; where are you going, how long will it take you to get here, which route are you taking, do you need to book ferries etc. It's amazing just how often these things get overlooked.

Let's start with the journey itself; if you can't do the drive in one day or you don't have a second driver to share the load then you'll need to factor in some overnight stops on route. If you do nothing else, take some time to plan when and where you're going to stop; trust me, trying to find somewhere to pull up to kip at 02:00 in the morning when you don't know the area, especially in the UK is no fun at all!

If you're going to Scotland you can 'Wild Camp', meaning you can stay for free in certain areas, or in Europe you can park up and stay for free at most service stations, some of which have showers. In Europe you can also stay for free at the picnic areas, which may or may not have toilets. A word of warning though if you have a female passenger in your van, don't be surprised if you're approached by some dodgy looking bloke looking for a 'lady' for the night. Some of these picnic areas are frequented by 'working ladies'! If you have no option but to stay in a picnic area then try and choose one that has mainly camper vans and few, if any, trucks.

Also beware in England, as stopping overnight can be tricky. Motorway services usually have a 2 hour limit on free parking, with exorbitant charges if you want to stay longer. Overnight camping is banned in a lot of tourist areas and pulling up on the side of the road can make for an eventful night; that is unless you have a stealth van! The beauty of having a van conversion as oppose to a motorhome is that to all intent and purpose it still looks like a van from the outside, particularly if you don't have any side windows in the back or you have blacked out windows in the crew cab. Because of this, it can be easier to park up on the street with these 'campers in disguise'. But don't be surprised if you get a few funny looks when you crawl out of bed in the morning!

The best thing to do once you've got your route sorted is to start asking around. Social media is great for this and you'll be amazed just how much knowledge there is out there about which are the best and safest spots to stay. There are also numerous books that you can buy full of details about free camping spots.

And when planning your journey, if you're going cross sea, check out the routes, the cheapest isn't always the best. Some routes may cost that little bit more and may be longer on the crossing time but they can cut hours off your travelling time on the other side and save on petrol costs too. If you're travelling to the South of France for instance, DFDS Seaways' Newhaven to Dieppe route, is worth thinking about. At 3-4 hours the ferry crossing is longer than the usual 1.5 hour Dover to Calais journey but it drops you in approximately 200 km lower down in France. The extra time onboard the ferry is perfect for recuperating too, especially if you've already had a long journey to get to the ferry port. The same can be said for travelling to northern Europe. Various ferry crossings are available for instance to travel to Holland; Harwich – Hook of Holland, Newcastle – Amsterdam and Hull – Rotterdam; again perfect if time is an issue. Plus with the current situation in France, finding an alternative route rather than going via Calais might just be an advantage.

A few more things to think about if you're travelling in Europe are petrol, tolls and parking. It's common to see drivers filling up their vehicles at petrol stations at the UK ports before boarding the ferry but it's not always a good idea to do this. If the pound is strong against the Euro it could be cheaper to buy petrol abroad. There's usually petrol stations close by to the ferry ports on the other side which are easy to find.

As for tolls, forget the odd UK charges; toll fees, especially in France and particularly if you are travelling in a van, can be extortionate. Toll fees vary depending on the vehicle; travel from Calais to Paris and expect to pay anything from 13.20 euros for a motorcycle to 33.20 for an intermediate vehicle and even higher if you're travelling via truck. You can of course avoid the tolls and whilst it does mean planning your route differently, a good sat nav takes the stress out of driving. For us the Mio Sat Nav, has been a lifesaver. If you do need to use tolls in France you can check out how much you'll need to pay at autoroutes.fr/en/key-rates.htm or for other countries you can find the rates at theaa.com/allaboutcars/overseas/european_tolls_select.jsp

So you've got your petrol, tolls and route sorted and now you want to find somewhere to park when you get there. Not quite as easy as you would think, especially if you're planning on going into any major city. Think underground parking, think van, think height restrictions; think again!!!!! Whilst street parking in some cities is allowed via payment meters alone, in other places you may need to display an International Parking Badge whether payment for parking is required or not. The parking badges, which look similar to the disabled badges that we use in the UK can be bought from most service stations and newsagents abroad for approximately 5 euros. But again a word of warning, to avoid penalty charges make sure you know where and when you can park. If you don't know the language take a dictionary with you or get an App for your phone or simply asks someone. And if you're not sure don't park there.

Finally if you're planning a trip make sure you have all your emergency numbers to hand including the Emergency Services Numbers for the countries that you are visiting. Put them in your phone and also write them down and keep them somewhere safe. And if you don't already do it use ICE, otherwise known as 'In Case of Emergency'. Put the word ICE next to the number for your next of kin, that way people will know who to contact should you get into difficulty.
The Emergency Service number for Europe is 112.

So now we've taken you on a whistle stop tour of the essentials you need to think about when planning a road trip, hopefully you'll be prepared.
But if you don't remember anything else just think of the 7 P's and the age old military adage: Prior Preparation and Planning Prevents Piss Poor Performance!