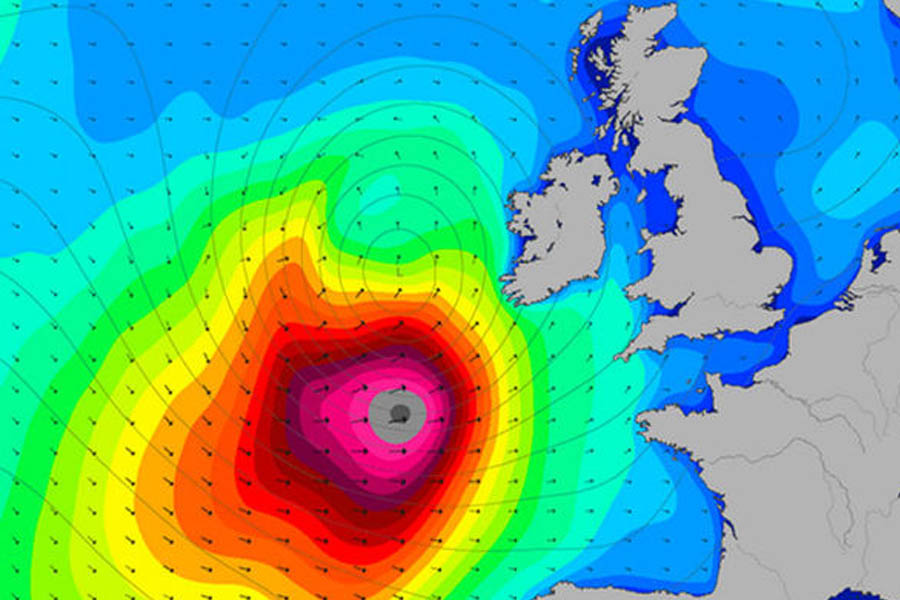 With a forecast on the horizon that looked like it could produce some epic waves alongside another band of strong winds, we made the decision to follow Storm Brian which was due to hit only 1 week after storm Ophelia. The charts were really positive for some great swell even if the wind was likely to create some issues. But as we know there are many places in Cornwall away from the usually spots that can work even when things don't appear to be perfect.
Heading down on Friday night and we ran into the start of the storm as soon as we hit Bristol. With lashing rain and wind buffeting the van, we were glad to get to Newquay in one piece after passing several incidents on the way down the A30 river.
Saturday morning and the swell wasn't as impressive as hoped. A drive around and several messages later and we gravitated towards St Ives Harbour. There were around 40 or so surfers in enjoying clean, shoulder to head high sets on the point. We set up and waited for the 'big' sets to come through …. but they just didn't seem to appear. That said we managed to bag a few shots and headed off for the night to check and edit what we had.
It was fingers crossed for the morning!
Sat came and with it slightly better weather. More sun and less wind is always good for photography so we made our way down to Porthleven. This wasn't a classic surfing day but we were thinking that if the conditions were right, there could be one or two locals out on kites, using the conditions that the surfers wouldn't entertain. And we weren't disappointed. Will Bennett and James Waters arrived not much after us.
It was on!
With some nice swell they discussed how to launch given that Brian and Ophelia had removed most of the sandy beach they normally used for launching and had left uneven rocks instead. The plan was to launch each other, taking turns on the water. So ExPix stepped up and launched them both so they could maximise their riding time. This wasn't just us being good Samaritans, it gave us more opportunities of grabbing some good shots; you scratch my back and all that! ;-)
So whilst they headed off upwind we got in position … first on the road above the church and then moving down to the breakwater. The waves weren't as consistent as we've seen previously but there were a few with some good size and James and Will took their chances when they could. With a couple of near barrels for James and some big slabs for Will, they kept hunting. But after about an hour or so they came in as the swell started to disappear and combined with a receding tide, the waves started to crumble and that was it …..
A quick phone call from Will to a friend up at Daymer located a lot of windsurfers sailing on the receding tide. With a last gasp hope of getting something really nice we made a quick dash north but this proved negative. The swell had gone completely and although there was wind, many of the riders were packing up to head home after the weekend.
Another night of editing and a quick call at the Philps Pasty Shop for supplies and it was back on the road up North towards HQ.
Not what we'd hoped, maybe next time we will hit the jackpot. But that's what it's all about, what keep us going ….. the search for that epic moment!
Save
Save
Save