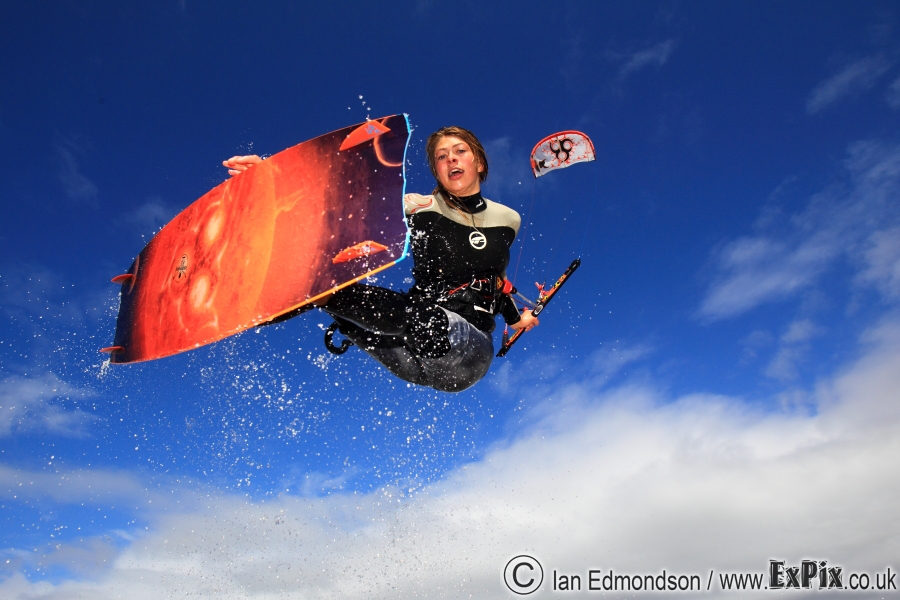 At just 15, Hannah Whiteley was the youngest female ever to win the British Amateur Ladies Kitesurf Championship, the following year she became the youngest ever Britsh Pro Ladies Champion. After take the title a further 2 times; Hannah set another record as the only female ever to have won the British Freestyle Championships 3 consecutive times.
Here ExPix gives you an small insight into this cheeky Cheshire girl and about her kitesurfing career, her hobbies and her goals.
Based in Stockport, Cheshire, in land and with the nearest expanse of kiteable water at least 1 hour away, you wouldn't think a young girl with no means of transporting herself to the beach would be able to get enough practice to become a champion kitesurfer. How wrong could you be!
Hannah's father Pete Whiteley an ex windsurf champ and now a 5 x Senior Kitesurf Champion introduced her to the sport when he first took it up. Hannah didn't take to kitesurfing straight away with a couple of near misses but at the age of 15 she gave it another go and suddenly realised that this was the sport for her. A few years on and she has won 4 British titles at amateur and Pro level.
Having the looks as well as the skill Hannah, has attracted sponsorship from various companies and doesn't seem to mind all the attention this brings. A very grounded and active person she has plenty of time for family and friends and can often be seen at the skateparks or the cable practicing.
Stats
Name: Hannah Whiteley
Date of Birth: Never ask a lady that question!
Birth Place: Stockport
Height: Dunno!
Current Home Town: Stockport
Equipment of Choice: Kites - Wainman Rabbit andWainman Gypsy, Boards -Wainman Joke Harness and wetsuit - prolimit fire range
Sponsors, ExPix of course, Wainman, Prolimit, Chiemsee and Kiteitright
Local Spot St Annes / Blackpool
Been to (countries) Australia, South Africa France, Germany, Holland, Italy
When not Kiting Inline Skating or wakeboarding or spending time with my family
Achievements so far? British Ladies Kitesurf Amateur Champion, 3 x British Ladies Pro Champion
What are your goals? To progress my freeride and travel
Hannah turned up at at British Kitesurf Championship event supporting her father. With her siblings in a pop up tent in a car park next to the mandatory VW accessory, we knew this family were going to be trouble! ;-)
Hannah was only along for the ride but somehow was persueded to enter the Ladies Ams, hardly able to ride herself she came last - that was the first and last time that happened! Back at home she went for session after session learning up to five new tricks in one visit to the beach. Back at the next event she entered again and won - later that year we watched her lift the title of British Ladies Amateur Champion and as they say the rest is history. We have watched her grow up from a 15 year old kid to a young woman who has plety of skills and dare we say it.... balls! Always one to try and go better, she is great to work with, always pushing for that perfect trick.
She has a few plans for the future and we will be the first to let you know what they are when they happen. So keep watching and help us support Hannah in her quest to become the best she can!