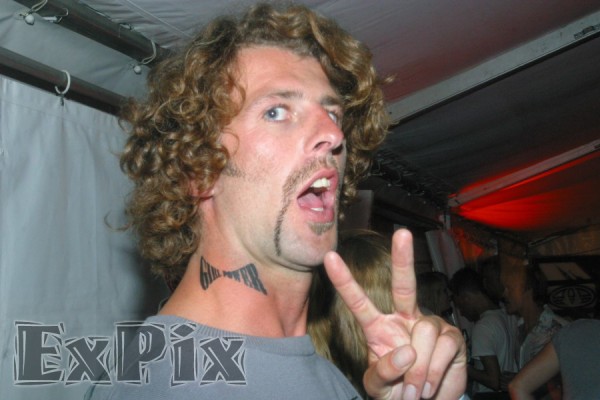 Born in the centre of England in Birmingham Matt has been ranked in the top 5 of UK wakeboarders for over ten year. Yet for all his bravado and showmanship on a wakeboard/skate his goals still include to improve his own riding as well as pushing the sport to new heights, and into the mainstream.Currently the british Wakeskate Champion as well as the Rococo Rail Tour Champion for the second year in a row he is in a good position to help promote the sport.
He love's 'to keep it fresh and different' and participates in most factions of the sport from boat to cable, rails and kickers in organised parks to winching untouched spots everything goes. He coments he is lucky to be making a living out of what he enjoys the most, the travelling, big events, free riding, good friends, all add up to just an amazing life for Matt.
His focus isnt so much on the wakeboarding side as much as the rail riding in which he is excelling at the moment. With more and more slider/pool gap contests he intends to keep pushing this side of his game hard.
Matt is an all round showman. He is ever the gentleman and at the events is always life and soul of the part. His presenting skills have unfortunately not been made use of enough, his character always shines through on camera.
DOB .......................................01/01/81
lives .......................................Chichester at the moment
favourite Kite Spot........... I ride all over the place, just love being on the road. If its hitting the cable, i'll jump on at JBSki and Princes Club whenever I'm in the South West lONDON region. Boat riding for me takes place mostly at Oxford Wake & Ski but now i also ride a lot at Chichester Watersports which is an awesome little spot ... and they let me throw my sea doo on the lake too!!!.
Best session....................... I have lots of great session, each for different reasons. The best ones are obviously when you feel like your riding is really tight but also just being out behind a boat-load of your friends, sun blazing and butter calm waters, or just a fat cable session with a good crew all riding it at once.
Achievements so far?....... Rococo Rail Champion 07 / 08..........National Wakeskate Champion 08..........Former European Junior Tour Champion..........Former European Junior Champion.......... 5th European Wakeskate Championships..........Ranked in top 5 of UK wakeboarders for over 10 years
Equipment........................... O'Brien Valhalla 143& Xenon Bindings, Liquid Force Reed 43" Wakeskate
Favourite Food ................ Chinese
Listens to ............................Pretty mucheverything, love electro and some good old 80's power ballads
Watches ?............................ Not a Rom-Com kind of guy or into horror, anything else is good. Sci-Fi for sure, and any flic with Will Ferrell, Ben Stiller, Vince Vaughn, or Owen Wilson in.
Which period of history would you most like to experience ?... Oh definately the 1920's the age of decadence would suit me just fine !
If you won the Lottery what would you buy first? ..... Round the World Ticket
If you could have anything in the world, what would it be? ... To win the lottery, Oh yeah World Peace en that !
What would you do if you got the 4min warning? have a kip for three so i could really make the most of the last minute.
What colour smartie would you be ? Are there purple smarties.
What are your goals? ....... keep on riding and pushing the sport ahead in as many different directions as possible, be it big events, rail riding, boat riding, winching crazy spots or just simply speading the goodwakeboarding world far and wide
Sponsors.......................... Relentless, O'Brien, Reef, Sea Doo, Ski Boat Zone Mastercraft, Bern, Ultra Sport Europe
How ExPix met Matt
Well we have known Matt since the turn of the century ;-) seems like ages ago now. First meeting him at Wakestock all those years ago when the biggest Music and Wakeboarding festival in Europe was situated on the headland above Abersoch sailing club over looking the main beach. We have watched and photographed Matt during his career and changes in the direction he wishes to take the sport.
It has only been the last few years we have really got to know him, ever present at all the major events, he take a leading role in organising, running, presenting and riding in most of the competition. He has been a big help in introducing us to riders and other members of the wake scene. Always helpful Matt takes his role very seriously. Trying to make a living out of Extreme Sports is very difficult in any role. His constant personal promoting finds him infront of many a camera, video, microphone, on stage or just hanging around chatting to general public about his passion. He can even be found hob nobing with celebrities when they come to the events.