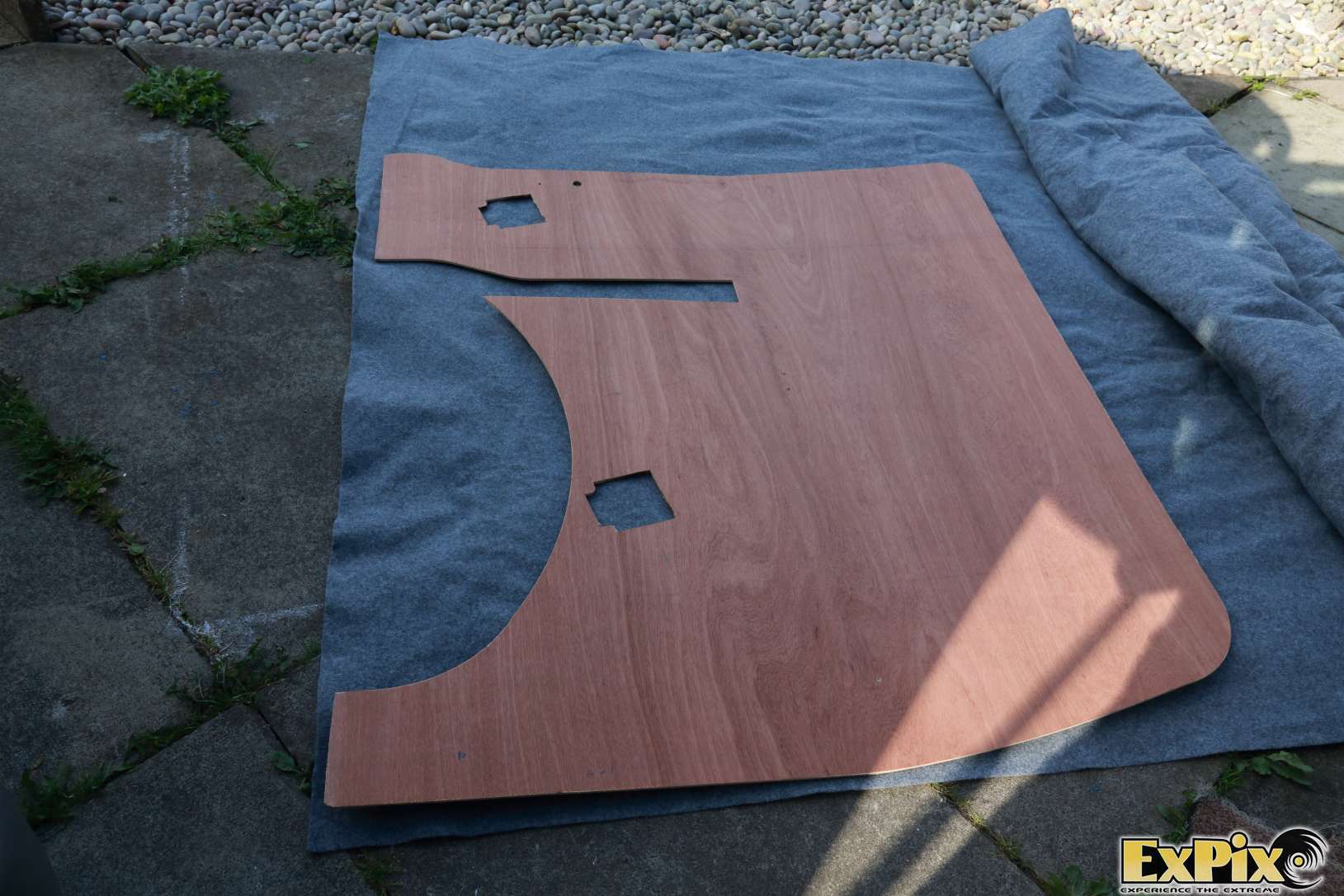 Now it starts to get tricky!
Ply lining the van proved way more difficult than we expected. We wanted it to make it fit and look 'clean' but this wasn't easy in a vehicle that isn't designed to accept lining on all panels. Cutting the wood without a full template, the make shift one we made just wasn't up to the job, was a challenge and time consuming. Even though most of the joints would be hidden under other units, cupboards, bed etc, our scribing wasn't the best. After a few frustrating attempts to get the wood to fit we threw our towel in and gave up!
A quick call to Plyline UK and our problems were solved. The company based in Blackburn, Lancashire cut ply lining kits for all models of vans and offer free fitting in the North of England and free shipping on all UK orders. Whilst buying a ply lining kit is arguably more expensive than buying sheets of wood, you do get a precision cut which makes fitting the wood so much easier. Based quite local to us in Blackburn, it was easy enough for us to collect the kit ourselves.
A tip here, and thankfully the guys were on the ball in asking us; make sure you check if you need the fixing points cutting. Because we aren't going to be carrying any cargo, we opted to leave them out.
Next issue, the kit wasn't for our model, even though we gave the correct details; it seems that our van was registered after 2005 but was a 2004 model which confused the issue. It didn't make too much difference though. We only had to cut out the step on the side door and at one point we wondered whether to leave it in and make a little storage compartment for jacks, levellers or that sort of thing; you know the things you can never finds when you pull up and need to get hold of them immediately …..Oh well I guess we'll still need to empty the boot out to get to those ;-)
So panels cut and shaved to make perfect, the carpet on the structure reduces the space for pre-cut designs; it was time to take them off and add the carpet lining. We started with the beams and structures of the van which meant readjusting the panels once more, but once the beams were lined the panels were relatively easy to add.
We used a light grey van lining carpet, supplied by T & A Upholstery Supplies. With a 4 way stretch, we found the carpet easy to fit and not too difficult to use, especially as the panels are flat, unlike the main structure of the van. Flame resistant, the carpet comes in 6 different colours and includes Trimfix Glue in the price.
With the edges wrapped around the back the fit is really nice and tight and we even managed to use the light weight plastic roof panels. With a little bit of wiggling and extra force we could use the old fixings so that meant no drilling or screwing, just plastic 'plug' fittings so that was a bonus.
As yet we've also not fitted the lining on the rear door panel and the side door. But we did place the middle offside panel in partially fixed so we could design how we wanted the kitchen area to fit. This will allow us to easily remove that panel to fit side windows which we think will be important with the new fixed sink and hob from Dometic (9222). It should allow for some ventilation during cooking.
So now we have the wall and roof areas carpeted we can start to design the units and bed. Time taken to do this job was around 4 days including, starting again and driving over to Blackburn.
Thanks must go to Plyline UK and T&A Upholstery who squeezed us into their busy schedules to supply the kit we needed for this part of the project.
Save
Save
Save
Save